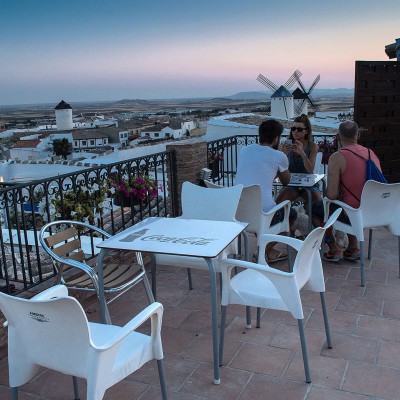 The Balcony of San Juan
Where heaven and earth never meet, you'll find the vast plain of Campo de San Juan. A seemingly endless space, ideal to recreate your senses and have a rest from your trip, while your eyes continue travelling over the infinite nuances of this land full of history and finally pause to enjoy the marvellous spectacle of the sunset.
What could be better than marveling at the rich culinary culture and historical past of La Mancha while enjoying a delicious dinner in one of the area's most privileged spots? Cueva La Martina is surrounded by the windmills, which apparently are the ones that truly inspired Miguel de Cervantes when writing Don Quixote's adventures..
Without doubt, savouring our excellent La Mancha cuisine in this unique location, will be one of the most relaxing experiences for your mind and palate during your journey. Even if you are surrounded by giants…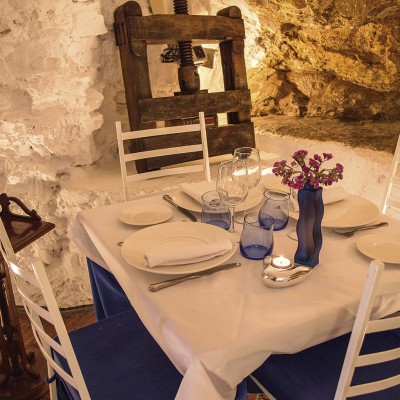 The Caves
We offer you in our Restaurant a beautiful experience you'll hardly forget: Visit our 16th century cave-dwelling, carved into the rock in the heart of the Sierra de los Molinos windmill-hill of Criptana. All spaces are decorated with several utensils that served the inhabitants for centuries to carry out their agricultural and/or domestic activities.
Enjoy a first-class gastronomic feast surrounded by the history and the 'savoir faire' of our people.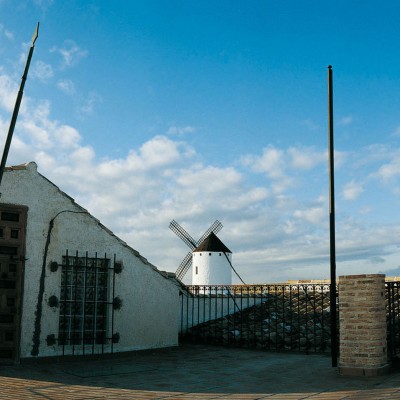 Panorama Terrace
Feel yourself a spectator (or protagonist) of one of the most important passages of Miguel de Cervantes' masterpiece:
At this point they came in sight of thirty forty windmills that there are on plain, and as soon as Don Quixote saw them he said to his squire, "Fortune is arranging matters for us better than we could have shaped our desires ourselves, for look there, friend Sancho Panza, where thirty or more monstrous giants present themselves, all of whom I mean to engage in battle and slay, and with whose spoils we shall begin to make our fortunes; for this is righteous warfare, and it is God's good service to sweep so evil a breed from off the face of the earth."
"What giants?" said Sancho Panza.
"Those thou seest there," answered his master, "with the long arms, and some have them nearly two leagues long."
"Look, your worship," said Sancho; "what we see there are not giants but windmills, and what seem to be their arms are the sails that turned by the wind make the millstone go."
"It is easy to see," replied Don Quixote, "that thou art not used to this business of adventures; those are giants; and if thou art afraid, away with thee out of this and betake thyself to prayer while I engage them in fierce and unequal combat."
Miguel de Cervantes Saavedra "Don Quixote", Book 1, Chapter 8
Our cuisine
Our cuisine is a good example of the generosity and ingenuity of the La Mancha gastronomy, which is based on the rich traditions of the area and top-quality local products. In combination with our innovative proposals we can offer you truly amazing flavors and sensations.